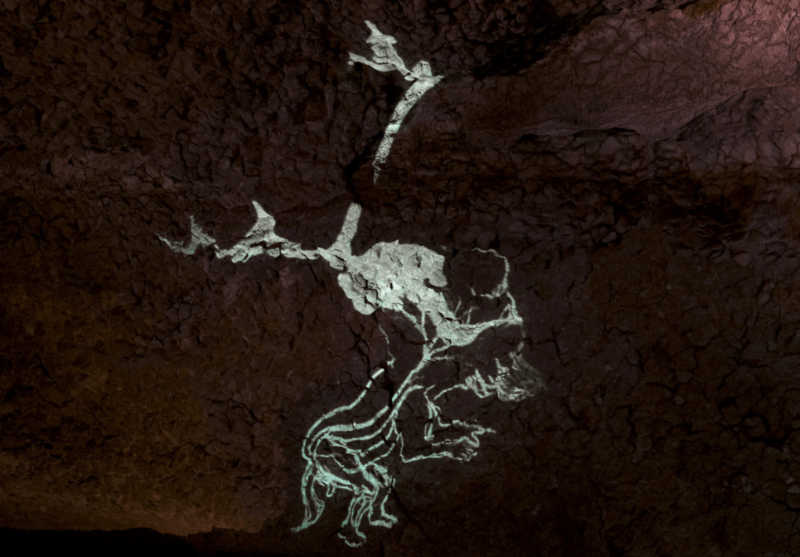 Résurgence VI
Profonde Intuition (Deep Intuition)
Résurgence is the autumn cultural event of the community of communes Causses and Dordogne Valley (Cauvaldor). Each year, the event is inspired by local heritage or a personality who has marked the recent history of the territory. Forged around partnerships, Résurgence is becoming more and more widespread and aims to allow all audiences to discover an aspect of the territory from a new angle.
Inspired by the photographs on glass plates from the La Forge collection and their testimonies on the life and discoveries of Armand Viré and his colleagues, the exhibition Profonde Intuition invites you to plunge into the depths of the earth, into the mineral and ancient worlds in search of the feelings that animate us, thanks to a selection of works by contemporary artists and collector's items.
The latter will be particularly highlighted in a reconstruction space inspired by the office of Armand Viré. Seeing all these images of caves, of gaping holes in Nature, of men confronted with an exciting unknown, one cannot help but imagine oneself in their place. What could they have felt? Some say that it is like a shock in love: a discharge of adrenalin, breathlessness by the underground beauty. This shock, felt deep inside, refers to other depths: that of our bodies and our souls. Caves are often associated with the feminine and become metaphors of a certain original matrix. Ancient stories or interpretations, our intuitions always lead us to a mother earth perceptible in the depths. To discover this new exhibition, its new route will take you into the depths of the 15th century nave of the former church of the Beffroi Saint-Martin, classified as a historical monument since 1925. A new scenography, like a jewel box, will honor the works of the exhibition Profonde Intuition.
With the works of : Allouche Dove, Andersson Maya, Basserode, Boralevi Marie, Bourcart Jean-Christian, Boussingault Jean-Louis, Carrier Thierry, Chaillou François, Chambaud Etienne, Clerel Marie, Costes Valère, Curnier Jardin Pauline, Delahaut Sabine, Demaison Laurence, Derobert Laurent, Douillard Carole, Duran Joan, Fairey Shepard, Goldin Nan, Isaacs John, Keller Pierre, Lecompte Gérard, Le Deunff Laurent, Lestie Alain, Maire Benoit, Mechita Myriam, Mens Carling, Mogara Joachim, Mohlitz Philippe, Morel Christine, Mulas Chiara, Navarro Ivan, Negreanu Matteï, Newton Helmut, Nori Claude, Orlan, Palette Terre (collective), Parant Titi et Jean-Luc, Perraud Stephan, Pey Serge, Pichavant Julie and Saez Alejandra, Poitevin Eric, Richer Evariste, Roche Denis, Savatier Pierre, Sorin Pierrick, Utrel Françoise, Weston Edward and a selection of ancient artworks.
A selection of works from the collections of Les Abattoirs, Musée - Frac Occitanie Toulouse, Frac Nouvelle-Aquitaine MÉCA Bordeaux, Artothèque du Lot, collectors Daniel Bost and Dominique Chambon, collector Evelyne Deret and other collectors.
The exhibition will take place at several sites, including the Château des Doyens in Carennac, the Fieux archaeological site in Miers, the Saint-Martin room in Souillac, the Neanderthal Museum in La Chapelle-aux-Saints, the Souillac media library, the Sousceyrac-en-Quercy library, the Palais de la Raymondie in Martel, and the Robert Doisneau train station in Carlux.
Find all the information on the program in PDF or online: Résurgence VI - Deep Intuition
Informations pratiques
Location
Community of municipalities Causses and Dordogne Valley (Cauvaldor)
Château des Doyens à Carennac, Archéosite des Fieux à Miers, salle Saint-Martin à Souillac, le musée de l'Homme de Néandertal à la Chapelle-aux-Saints
Informations : +33 5 65 33 81 36