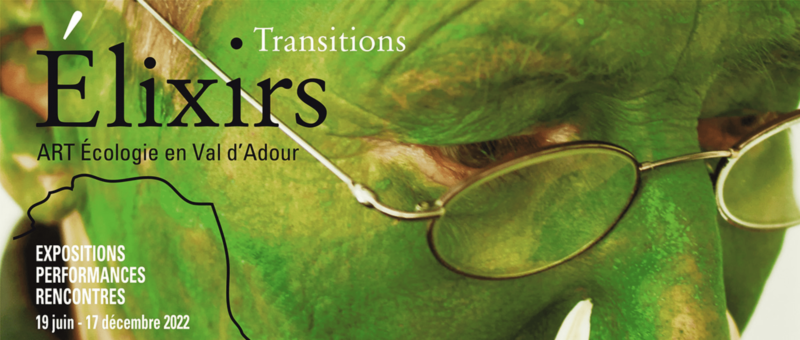 Elixirs
A new generation ART Ecology project
"Elixirs" is a new type of artistic and cultural project dedicated to art and the ecological transition. Dedicated to the river Adour, Elixirs is aimed at all audiences with a year-round programme of exhibitions and events offering ways of re-enchantment and collective work.
Nombre d'humains cherchent en ce moment même à restaurer leur connexion à la nature, à la terre et au cosmos. Une connexion qui s'est abimée au fil des temps. Ce serait l'une des causes des problématiques environnementales actuelles et des difficultés à y remédier. En réponse, un nombre croissant d'artistes travaille à réinventer ces liens distendus en revisitant les cultures de la nature et de l'enchantement.
Une motivation que partage le projet Élixirs dont l'objectif est de participer à la transition écologique d'un territoire rural avec des solutions innovantes, pour se réinscrire dans le local à travers l'art et la culture.
Réenchanter et faire œuvre collective sont considérés par beaucoup comme des préalables indispensables au développement d'une réelle culture de transition. Cela est possible à condition de refaire communauté. Communauté d'abord avec l'environnement, en développant un esprit de collaboration avec la nature elle-même, qu'elle soit végétale, minérale, animale ou autre. Refaire communauté aussi entre les humains eux-mêmes en s'inscrivant dans une perspective de «mieux vivre» individuel et collectif.
Intitulée Transitions, l'édition de préfiguration 2022 d'Élixirs, s'inspire de ces modalités pour introduire les trois grandes orientations de son projet: réinventer notre rapport à la nature et au vivant, associer patrimoine naturel et culturel, réinvestir les Préfiguration 2022 Transitions COMMUNIQUÉ DE PRESSE Élixirs un projet ART Écologie de nouvelle génération temps longs de la nature, de la transhistoire, de la créativité et de l'œuvre. Sans oublier de s'inscrire dans le territoire par la mise en valeur de ses acteurs à travers des processus d'écoconception et de co-création.
C'est pourquoi la programmation Élixirs 2022 repose sur un maillage à l'échelle du Pays du Val d'Adour, qui réassocie patrimoines culturels et naturels en conjuguant leurs dimensions géographiques, historiques et sociétales. Les sites de l'abbaye de Saint-Sever-de-Rustan (XVIIe siècle), du château médiéval de Montaner et de la Tour de Termes d'Armagnac en sont les trois points d'ancrage d'Élixirs.
Ces trois sites jalonnent un parcours ouvert sur les éléments naturels: l'eau de l'Adour avec la Maison de l'Eau à Jû-Belloc, la terre avec l'Écocentre Pierre & Terre à Riscle, les abeilles avec l'ouverture du centre d'art apicole de l'Abeille blanche à Maubourguet, ou les arbres à travers le projet du Musée de l'Invisible qui leur est dédié à Lahitte-Toupière.
Le projet Élixirs repose sur deux types de manifestations : des expositions d'œuvres d'art contemporain et des événements participatifs (conférences ateliers, créations musicales, performances, rencontres Élixirs Art&cologie), ainsi que des programmations «en écho» représentatives de la vie culturelle du territoire.
Alors que les créations contemporaines associées au patrimoine naturel et culturel du territoire permettent d'entrer en résonnance avec ses multiples dimensions matérielles et immatérielles.
Document de médiation - Élixirs
Informations pratiques
www.elixirsartecologie.fr
Cœur Sud-Ouest Tourisme
www.coeursudouest-tourisme.com
05 62 08 26 60