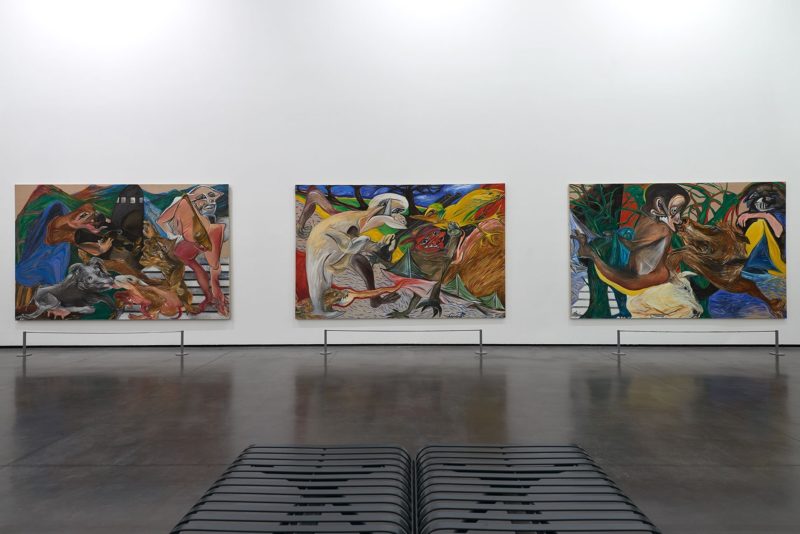 Jacqueline de Jong - Retrospective
This first French retrospective by Dutch artist Jacqueline de Jong (born in 1939) offers a panorama of her creation since her historic artworks of the 1960s, her membership as an International Situationist, her role as editor of The Situationist Times and her participation in the events of May '68, through to her most recent works – paintings, books or jewellery.
The exhibition presented at Les Abattoirs reveals the rich diversity of the artistic programme and life of Jacqueline de Jong. Born in 1939 to a Jewish family, she was forced to flee her country when it was invaded by the Nazis. In the late 1950s, after classes in the dramatic arts in London and Paris, she worked at the Stedelijk Museum in Amsterdam directed by Willem Sandberg. There, she met the members of Cobra, including Asger Jorn and Guy Debord, the founder of the International Situationists, who defied the "spectacular society" and aimed to "surpass" traditional forms of art – a cause which she rallied to. It was in 1961, in Paris, after classes in etching, that her own artistic pathway was to be mapped. In 1962, she founded The Situationist Times, the only English-speaking magazine of the movement and attributed to each issue a motif pertaining to the situationist theme of dérive (drift) – a maze, a knot, etc. Her figurative, expressionistic art played on a bestiary that was at once monstrous and naïve, inherited from Cobra (Suicide Paintings, Accidental Paintings, Le Salau et les Salopards). Her painting also borrows from everyday objects – screens, mirrors, or suitcases – echoing the combine-paintings and situationist subversion. In May '68, buoyed by revolutionary ideals, she joined the rebellion by creating screen-printed posters, prior to her return to Amsterdam in 1971. She has since shared her time between Holland and her home in the Bourbonnais countryside in France.
The work of Jacqueline de Jong combines eroticism, violence, and humour, often confusing humans and animals and flirting with the limits of humanity. She is able to evoke the banality and brutality of a billiards scene, the bleakness of history, or the festivity of a garden. Jacqueline de Jong experienced the avant-garde of the 1960s and the comeback of painting in the 1980s with characteristic freedom, disobedience, and political commitment. Since the 2000s, she has created books and paintings that bear the motifs of potatoes, which she also transforms into jewellery after harvesting them, drying them out, then dipping them in gold. Since the 2000s, her work has enjoyed a revival: besides the acquisition of her archives by Yale University in 2011, it was recently the subject of both monographic (Cobra Museum for Contemporary Art, Amstelveen, 2003; Moderna Museet, Stockholm, 2012, etc.) and collective exhibitions (Musée Tinguely, Basel, 2007; Bibliothèque nationale de France, Paris, 2013; Blume and Poe, Los Angeles, 2015; Château Shatto, Los Angeles, 2017; Mamco, Geneva, 2018, etc.), and her jewellery has also been exhibited (Musée d'art moderne de la Ville de Paris, 2016; Musée des Arts décoratifs, Paris, 2018). In 2019, her work will be shown in a solo exhibition at the Stedelijk Museum in Amsterdam.
Exhibition in association with Le Printemps de septembre.
With the support of Mondriaan Fonds.