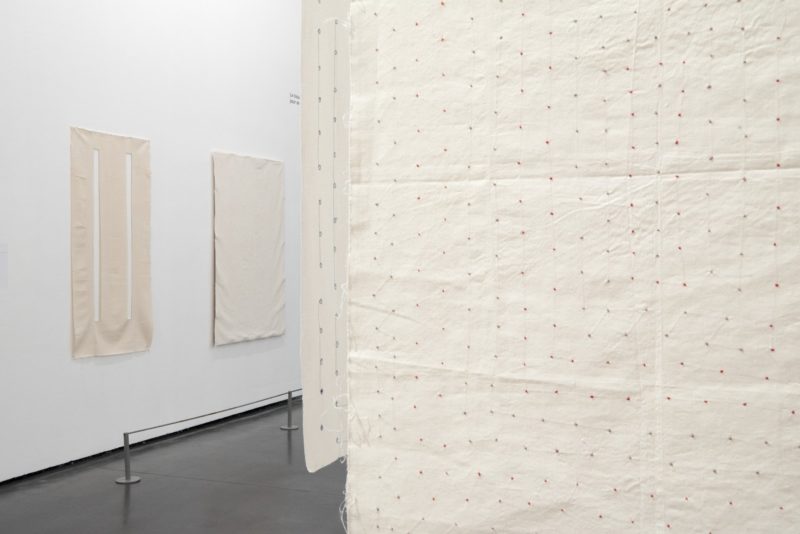 Hessie, Survival Art
A self-taught immigrant, Hessie was one of the rare artists of colour active on the French scene in the 1970s. From the late 1960s, she developed a singular body of work, transforming embroidery and collage into a message  for survival and feminism. Like other artists of her generation, she reappropriated this craft, predominantly practised by women, using it to create contemporary expressions with needle and thread.
The way in which she used an activity for her own ends that had long been considered archaic and anonymous led to her allegiance with avant-garde and the women's liberation movements. This first major exhibition in a French museum for almost forty years contributes to the rediscovery in recent years of an artist long marginalised within the history of art.
Hessie's story also resonates as that of a 20th century woman in a globalised world, including with regard to the mystery that she continues to maintain surrounding some of the events of her life. Born in 1936 into a mixed-race family from the Caribbean Islands, Hessie left the island of Cuba on a journey, to America and elsewhere. In 1962, she and the painter Dado, she had met in New York, moved into a windmill once owned by collector Daniel Cordier, in Hérouval, one hour from Paris. In this home, where she still lives today, Hessie Carmen Lydia Djuric quickly set up a studio, which allows her to retreat as though into a creative bubble to weave the framework of domestic temporality. In this "room of her own", to borrow Virginia Woolf's expression, she develops an unclassifiable œuvre, which she pursues to this day. Using humble, domestic (paper, clothing, waste, hair, dust), feminine (fabric, thread, buttons), or children's materials (toys), she gives rise to a rigorous, minimalist, and often abstract plastic language. While escaping established categories, her work remains powerfully contemporary. For art critic Aline Dallier, she thus belongs to the "Nouvelles Pénélopes" (New Penelopes) who make use of feminine language in order to subvert it. As for the series of embroidered or collage works - Grillages, Végétation, Bâtons pédagogiques, Ecritures, Trous, Déchets or Boîtes - they also bear affinities with contemporary movements such as minimalism, process art, antiform, soft art, but also arte povera and Support/Surface. Moreover, performances and discussions from artists from French art scene, specially women artist took place in her Parisian studio. She herself tried the very new media of video.
"No man's land. The artist declines all responsibility as to their identity, both in terms of their private life and declarations concerning their work." (1) .  Hessie
This is what Hessie affirms as a kind of introduction to the exhibition catalogue Survival Art, the first monographic exhibition of Hessie, held in February 1975 at the A.R.C. of the Musée d'Art Moderne de la Ville de Paris. This expression that gives its title to the project of Les Abattoirs, sets the tone for the radicality of the artist's position and approach.
The retrospective held at Les Abattoirs de Toulouse in association with the MUSAC in Léon, Spain, intends to reveal the rich and complex diversity of the world of an artist as fascinating as she is enigmatic. Thanks to a large body of works bringing together the series on fabric and on paper, embroideries and collages, as well as new pieces, the exhibition will present the multiple facets of a singular artist. Thematically organised as an environment, besides artworks, it will include documentary and art films from the period and more recent films, as well as testimonies, in an attempt to penetrate the "Hessie Mystery".
"Survival Art aims to resist dissolution and loss, thus clearly favours detritus, obsolete objects, everyday materials, the vestiges of a life, or, with the sewing, an action that patches up, nurses, and binds. Survival Art is synonymous with its allies, the feminist liberation movements, or the workshops or meetings of supportive and politically committed women it participates in. This term Survival Art retrospectively takes on a new dimension, with the knowledge that survival is inscribed within the very heart of the fate of the artist's work, which just barely escaped destruction. Following water damage in the Hérouval windmill, a large part of Hessie's œuvre was affected by humidity and mildew, with some works bearing traces of this event despite restoration." Sonia Recasens and Annabelle Ténèze.
This exhibition is organised in association with

(1) Letter from Hessie on the occasion of her exhibition at the A.R.C. in 1975, found in the archives of the Musée d'Art Moderne de la Ville de Paris
Commissaires
Sonia Recasens, art critic, independent exhibition curator
Annabelle Ténèze, heritage curator, Director, les Abattoirs, modern and contemporary art museum, Frac Occitanie Toulouse.