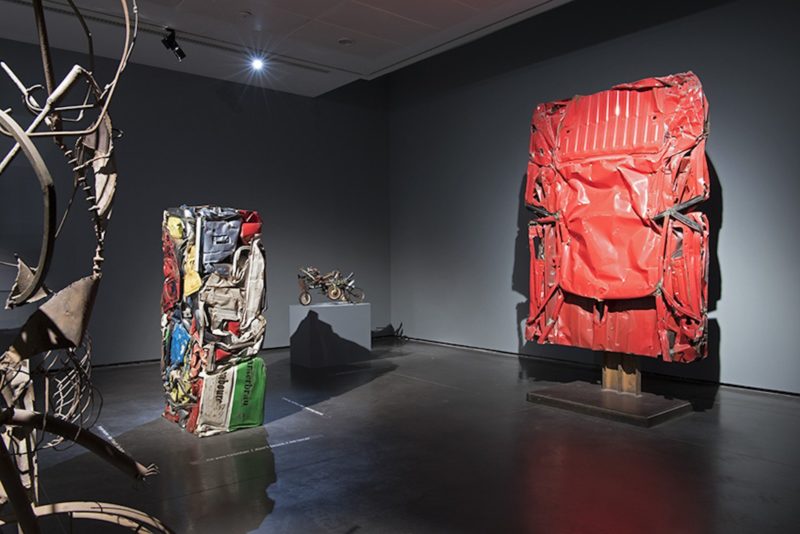 Celebrating New Realism
The 40th anniversary of the Centre Pompidou is an opportunity to present for the first time in Toulouse a collection of Nouveau Realist works.
Artists include: Arman, Ben, César, Gérard Deschamps, François Dufrêne, Raymond Hains, Horst Egon Kalinowski, Yves Klein, Robert Malaval, Robert Rauschenberg, Jean-Pierre Raynaud, Martial Raysse, Mimmo Rotella, Niki de Saint Phalle, Daniel Spoerri, Richard Stankiewicz, Jean Tinguely, Jacques Villeglé, Gil Joseph Wolman, and M.A.T. Editions.
The Nouveau Realisme movement began in Yves Klein's studio in 1960, where Pierre Restany brought together a group of artists whose collective singularity was "Nouveau Réalisme—new ways of perceiving the real". Arman, César, François Dufrêne, Raymond Hains, Yves Klein, Martial Raysse, Daniel Spoerri, Jean Tinguely, and Jacques Villeglé all signed the manifesto, joined by Niki de Saint Phalle, Gérard Deschamps, César, and Mimmo Rotella the following year, and later Christo.
The group offered an alternative to the Abstract wave which followed the Second World War and quickly became a major trend in Avant Garde throughout France and Europe. Nouveau Réalisme's perspective on the object and gesture joined the change that was happening internationally throughout the world of art (Néo-Dada, Fluxus, Pop art, groupe Zéro...)
Like Pop Art, Nouveau Réalisme addressed the rise in industrialisation and consumerism in society. Drawing material for their works from the daily life of the early 1960s, Nouveau Realists used everyday objects, adverts, posters, junk, neon lights... Their works were however dense and radical, marked by action and movement; destroying, ripping, compressing, assembling, sticking, tearing, stretching, stamping, and wrapping. Each artist had their own particular method of creating a "poetic recycling of urban, industrial and advertising reality". Arman had his accumulations and destructions, César; expansions and compressions, Hains and Villeglé; décollage (torn poster technique), Yves Klein; monochromes and performance art, Raysse; assemblage and transfigurements, Spoerri; snare-pictures, Tinguely; sculptural machines or metamechanics, and Niki de Saint Phalle her Tirs and Nanas.
The diversity and vitality of Nouveau Réaliste works will be showcased at les Abattoirs in a journey into the heart of the movement; accompanied by films, the exhibition will highlight how much the group has influenced public space, and our lives. You'll see the militant, often comical side to the works, many of which are on loan from the Pompidou Centre and Tiguely museum (Basel). To complete this unique show, some works by artists close to the movement (Malaval, Raynaud, Rauschenberg, etc.) will be included.
We thank the following for their support:

Informations pratiques
Opening Thursday 2 February at 18:00