Catherine Branger "In Situ
In this form of collaboration, artist Catherine Branger, associated with Les Abattoirs, Musée - Frac Occitanie Toulouse for the past 20 years, and for many years a contributor to the plastic arts workshop at the Muret detention centre, shows her personal creation for the first time, with over thirty works.
Catherine Branger is a visual artist, born in 1965, who lives and works in Toulouse. She is a graduate of the École Supérieure des Beaux-Arts de Paris (DNSAP in the Drawing section, 1990). Her artistic life is divided between her drawings and paintings, which she exhibits regularly in Toulouse and the surrounding region, and her work with a wide range of uninitiated and so-called 'disadvantaged' audiences.
Her drawings and paintings are formal. Catherine Branger's art is essentially abstract, using matter, line and colour for their own sake. Her work can be compared with that of the great French artist Daniel Buren (1938), whose work is minimal in appearance, engaging visitors in a profound metamorphosis of their perception.
Catherine Branger's formal work is based on a grid, sometimes horizontal lines, sometimes vertical lines. Part of her research is based on a sheet of A4 paper with regularly spaced straight lines printed across it. This object, the sheet of paper, is randomly transformed into volume and then photographed. These points of view, reworked on the computer, are projected onto the canvas. Drawn with scotch tape, they are at the birth of form and colour, while the paint orders its materiality.
The works in the "In Situ" series offer views of interiors housing her for-mal creations. These are often his studio, where his works are hung or placed, or the places where they are exhibited. This series continued with observations of the work of other artists.
"In Situ" because the place becomes inseparable from the work, art that makes us see differently. Catherine Bran-ger also works in architectural spaces, as in "Étapes" and "Ne pas plier", in the form of temporary installations.
in partnership with the Ministry of Justice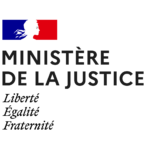 Informations pratiques
Location
Muret detention centre
Route de Seysses
31600 Muret